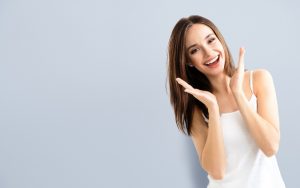 What do you want to accomplish in 2019? Maybe you're looking to shed a few extra pounds, take that dream vacation, or earn that promotion you've been eyeballing. Regardless of what your goals may be, a beautiful smile may give you the confidence boost you need to reach them. But what if your teeth fall short of their true potential? Your cosmetic dentist can help you attain and maintain a healthy, beautiful set of pearly whites.
Cosmetic and Restorative Treatments to Enhance Your Look
What do you want your smile to look like? Discuss your goals with your cosmetic dentist, and together you can decide on a treatment plan that fits your budget and your personal preferences. Some of the treatments that may be able to help you include:
Professional whitening. This can remove even deep-set stains that have been plaguing your teeth for years.
Porcelain veneers. These are thin pieces of porcelain that your dentist permanently attaches to the fronts of your teeth. Their job is to disguise all sorts of imperfections, including chips, cracks, misshapen teeth, discoloration, and more.
Direct bonding. Bonding is an alternative to veneers. It does not last as long, but the results can be just as stunning.
Invisalign. This orthodontic treatment uses a series of clear aligners to gently move teeth into their proper positions. No ugly brackets and wires required!
Crowns and bridges. A dental crown can fortify a weak tooth and restore its appearance. A bridge is able to replace a missing tooth in a way that looks natural and feels secure.
Maintaining Your Smile Through 2019 and Beyond
After you achieve the gorgeous grin you've been dreaming of, you'll need to take a few simple steps to maintain your new look. Following these easy guidelines will promote a healthy, attractive smile:
Focus on oral hygiene. Be sure to brush along the gum line and the backs of your teeth. When you're flossing, remember to floss both sides of your teeth and not just run the floss through the spaces between them.
Beware of stains. Natural teeth, porcelain veneers, and direct bonding can all incur stains over time. Keep your consumption of dark drinks, like coffee and red wine, to a minimum.
Watch what you eat. Hard and sticky foods can break teeth or get lodged between them, increasing the risk of decay. Sugary foods are a major culprit behind plaque and cavities. It's all right to indulge in a treat once in a while, but be sure to rinse your mouth with water afterward.
Don't be a stranger at your dentist's office. Regular checkups will help your dentist catch oral health problems before they cause you pain and/or affect your smile's appearance.
Do you want to start 2019 with a brighter, more beautiful smile? Visit your cosmetic dentist to discover how you can achieve the look you've always wanted.
About the Author
Dr. Joanne Bancroft is an experienced cosmetic and general dentist in Westminster. Whether you're looking to get rid of stains or rebuild your smile, she offers treatments to help you attain the healthy, attractive set of teeth you're after. To learn more about Dr. Bancroft and the services she provides, contact our office at 720-458-6561.