Meet the Westminster Team
At J.B. Dental, Dr. Bancroft is so proud to have the ongoing support of a truly one-of-a-kind dental team – she couldn't accomplish nearly as much as she does for her patients every day without them! Everyone looks forward to welcoming in new patients and families, helping them feel genuinely comfortable throughout the appointment process. To learn more about each unique staff member, keep reading below:
Kate; Front Desk Administrator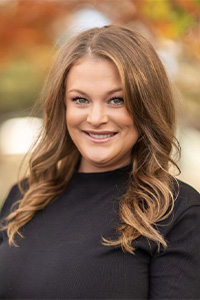 Kate attended Colorado State University before attending the Northern Colorado Dental Assisting Academy. Today, she has been working in dentistry for 12 years and is certified in CPR, OSHA, and HIPAA. She truly loves interacting with patients and helping them understand all of their treatment information and insurance benefits.
Originally from Firestone, Kate is very close with her mom, her cousins, and plenty of longtime friends. She also has four brothers and a sweet black cat named Zoey. Her interests include gardening, painting, photography, traveling, art, and history.
An interesting fact about Kate: Although she's a Colorado native, she also spent two years living by the ocean in New Jersey. During that time, she collected thousands of seashells, sand dollars, and sea glass pieces that she artistically displays in her home.
Janice; Front Desk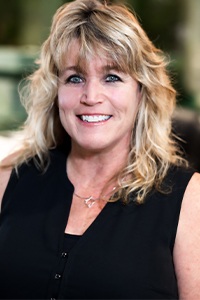 Janice is from Glenwood Springs and has been working in the dental world for over 30 years so far. Today, as part of JB Dental, she really enjoys interacting with our patients! Getting to know not only their dental needs, but their personal stories too over time is always so rewarding. She always goes above and beyond to ensure that each new arrival understands their dental insurance benefits and treatment needs in full.
Away from the office, Janice has two grown children, one grandson, and two step-grandchildren. Her favorite hobbies include getting together with friends and family, hiking, reading, cooking, and dancing.
An interesting fact about Janice: she used to participate in ballroom dance competitions!
Cathy; Expanded Functions Dental Assistant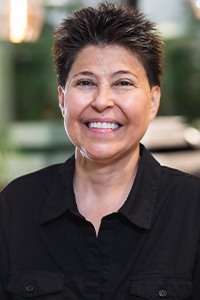 Cathy's career in dentistry covers almost 15 years so far. She studied Business Management at Metro State College before pursuing her oral healthcare education at the University of Colorado School of Dental Medicine. Today, she has her EFDA certification and is also fully trained in CEREC and E4D technology. What she enjoys most about her work is being able to help patients feel comfortable throughout their appointments and building trusting relationships with them over time.
Outside of work, Cathy has four siblings, five nieces, one great nephew, and three great nieces. She also has two little girl Dachshunds named Hazel and Hadley who keep her very busy. She spends her free time going to the mountains and staying at her family's cabin, as well as watching movies and hanging out with loved ones.
An interesting fact about Cathy: She loves to travel via cruise ships! Over the years, she's been to the Caribbean twice, the Mexican Riviera, and Alaska. She plans to take many more trips in the future, too.
Emily; Dental Hygienist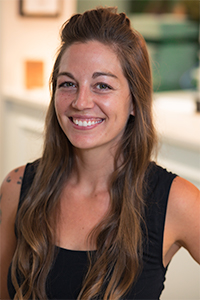 Originally from Acme, PA, Emily completed her studies at West Liberty University. Today, she has her Local Anesthesia License and her Laser Certification for periodontal health. Since joining the dental field roughly a decade ago, she has thoroughly enjoyed helping people feel good about their smile while improving their oral and overall health!
Since moving to Colorado, Emily has thoroughly enjoyed snowboarding on the stunning mountains, golfing, playing tennis, camping, and hiking. Her favorite thing to do, however, is to spend time with her growing family!
An interesting fact about Emily: she loves tattoos and hearing the stories behind other people's ink!
Haley; Dental Hygienist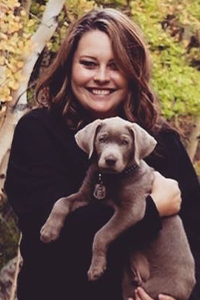 Haley was born and raised right here in Colorado. She attended both Colorado Northwestern Community College and the Metropolitan State University of Denver. Since then, she has earned her certifications in CPR, anesthesia, and diode lasers. Currently, her favorite part of being in the dental field is serving others on their journey to improved oral health!
A third-generation Colorado native, Haley loves spending her free time soaking up everything this wonderful state has to offer! She is also a newlywed and enjoys playing with their dogs and reading.
An interesting fact about Haley: she loves all animals, including reptiles! She is a proud mom of a 17-year-old snake and a baby chameleon.