Complete & Partial Dentures – Westminster, CO
An Affordable & Reliable Tooth Loss Solution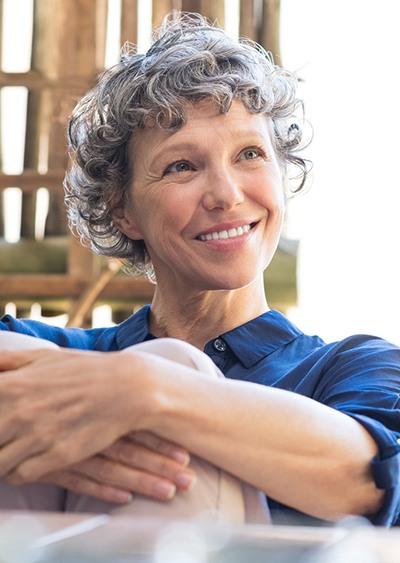 Dentures are removable, artificial teeth that are typically made from acrylic. They restore your ability to eat properly, improve your speech, and help support your overall facial structure. Teeth can be lost for a multitude of reasons, including decay, gum disease, or through involvement in an accident. In cases like these, J.B. Dental in Westminster can expertly construct a complete or partial denture to restore your beautiful smile!
Complete and partial dentures are the two types of permanent dentures available to return the beauty and functionality of your smile. Partial dentures are used to replace missing teeth and avoid a shift of the surrounding teeth due to the space left by the missing tooth. Complete dentures are used when all the teeth are missing from either the upper or lower arch. Temporary partial dentures keep patients from being toothless while more permanent dentures are being made.
Dentures are made with materials that make them light, durable, and easy to adjust to while still giving you complete functionality and support. Each material chosen for your specific denture will be customized to best suit your needs. Partials made with a cast metal framework for strength are best for patients who are missing several teeth, but whose remaining teeth are healthy and solid in the bone.
For those concerned with aesthetics, J.B. Dental offers a Valplast® partial with all tissue-colored clasps and no visible metal. J.B. Dental offers many options including our more affordable standard dentures, as well as premium dentures which provide the highest quality of appearance and comfort. We will design your partial denture to look like your natural teeth so that your smile appears seamless.
The Dentures Process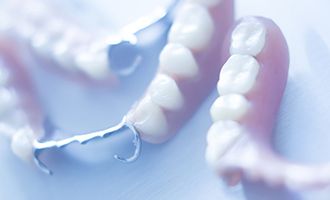 Getting a denture requires several appointments to ensure the appliance is best fitted to you. First, molds or impressions must be made to gather precise measurements and provide you with a denture perfectly fit to your mouth. Once the fit, shape, and color of the denture have been matched to fit your smile, you will have full dental functionality and a truly beautiful smile.
Dr. Bancroft will guide you through all of the care instructions to best treat your new dentures, including the hygiene habits you will need to preserve them and maintain your optimal oral health. Proper cleaning and maintenance of your dentures is essential to prevent infection or other related issues. While our dentures are strong and long-lasting, changes in your mouth and normal wear may require them to be periodically adjusted. To avoid discomfort or damage to your appliance, please contact our dental office immediately with any questions or concerns regarding your dentures.
Understanding the Cost of Dentures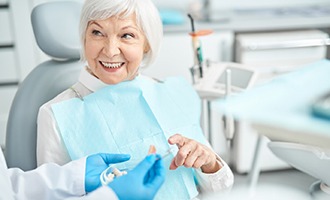 As you consider how you plan to replace your missing teeth, one of the leading factors may be the cost of dentures in Westminster. Although you may want a set price so you can easily compare and contrast against other options, the truth is no two cases are alike. You must schedule a consultation with Dr. Bancroft to discuss your situation before learning how much you can expect to pay for your new teeth. You will also need to consider how dental insurance will play a part in the financial aspect of your treatment. To help you better understand how the cost of your prosthetic will be personalized to you, review the following information and contact us with any questions.
Factors That Affect the Cost of Dentures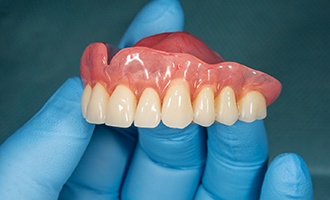 The cost of your dentures will be dependent upon various factors your denture dentist in Westminster will consider during your initial consultation, such as:
Any preliminary treatments you might require before receiving your dentures (i.e., bone grafting, periodontal therapy)
How many teeth you are missing and if you need a partial, full, or implant denture
The materials used to create your denture base and artificial teeth. The base is commonly created using acrylic while artificial teeth are typically made of acrylic or porcelain
There are indeed many dentists who use cheaper materials when crafting dentures for their patients; however, it is important to remember that you get what you pay for. Opting for less expensive materials can mean brittle and easily breakable prosthetics. If you want a solution that lasts longer, it's best to choose higher-quality materials that can withstand daily wear and tear.
Are Implant Dentures More Expensive?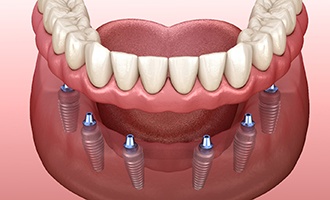 Yes, it is true that implant dentures are more expensive than traditional prosthetics upfront. These permanent prosthetics must be surgically placed into your jawbone for maximum support, effectiveness, and longevity. This is one of the many reasons they cost much more in the beginning. Yet, as you consider the minimal maintenance required of these prosthetics and the immense benefits you'll receive, it's easy to see why millions of people are already living with and enjoying this type of tooth replacement.
Does Dental Insurance Cover Dentures?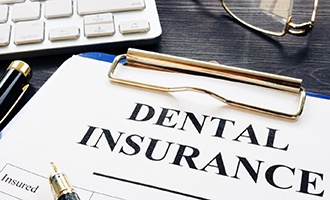 It is common for most dental insurance companies to provide coverage for dentures. Depending on your plan and coverage levels, your carrier may agree to pay anywhere from 50-80% of the total cost. This can be great savings for you! However, if you're unsure about your policy and need help better understanding the details, our team can assist in explaining your benefits, helping you to maximize them, and filing any necessary paperwork and claims on your behalf.
Other Options for Making Dentures Affordable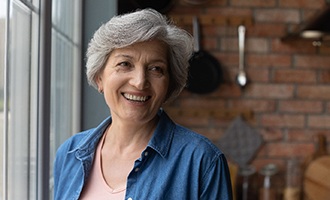 Ensuring your denture treatment is affordable is one of the many goals of our team at J.B. Dental. Dr. Bancroft understands any type of dental work is costly, which is why she offers two alternatives to keep costs low and within reach:
B. Dental Membership Program: If you are without dental insurance, you can enroll in this unique program by paying one low yearly fee. Included are basic preventive services as well as 20% off all other available dental treatments.
CareCredit: Whether you're uninsured or need help paying the remaining balance after filing with your insurance company, CareCredit makes it possible to enroll in a low or zero interest financing plan. You can break up the cost of your treatment into monthly payments, allowing you to stay within your budget.
Dentures FAQs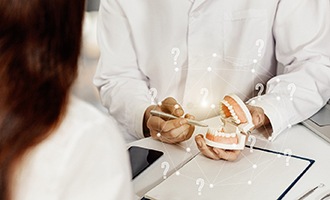 At J.B. Dental, Dr. Bancroft and our team understand losing teeth can be a difficult and challenging experience. This is why she is committed to providing effective tooth replacement solutions to help patients recapture their smiles. If you choose dentures in Westminster to replace your missing teeth, you can expect us to remain by your side throughout the entire process, answering your questions and addressing your concerns along the way. Because we know you probably have many inquiries about these prosthetics, below is a list of questions asked by our previous patients. Feel free to review the following information and contact us to discuss further.
What is the Average Age for Dentures?
Individuals over the age of 40 are the most likely to wear dentures. It is estimated that around 57% of people between the ages of 65 and 74 are wearing some type of denture. Of course, 66% of people between 40 and 64 have one missing tooth while only 33% of adults between 20 and 39 are without at least one pearly white. While dentures remain a popular choice for tooth replacement, other solutions are becoming increasingly popular, such as dental implants.
Can I Use Regular Toothpaste to Clean My Dentures?
While you might assume it is safe to use traditional toothpaste to clean your dentures, it is not. Regular toothpaste is often highly abrasive and can scratch your artificial teeth, causing them to become damaged and less natural in appearance. Instead, you will want to purchase non-abrasive toothpaste or a specific denture cleaner. To ensure your prosthetic remains free of any bacteria, you'll need to regularly brush your teeth after every meal.
Can I Sleep With My Dentures?
It is strongly advised that you do not sleep with your dentures in your mouth. It is best if you remove them before going to bed. Why? The reasons are many, some of which include:
Your dentures need time to soak and be cleared of any bacteria, dried saliva, or harmful particles that have accumulated throughout the day
Your gums and bone need time to breathe and restore important nutrients
Pneumonia can develop if dentures are left in, as bacteria can form underneath the prosthetic
You can develop a yeast infection within the gums if dentures are consistently worn overnight
Is It Hard to Talk with Dentures?
Initially, when you receive your new dentures, you may develop a slight lisp. The adjustment phase is different for everyone, as timelines vary. However, there are things you can do to reduce this timeframe and return to speaking normally much sooner. During the first several weeks of wear, try slowing your speech and carefully sounding out difficult syllables. You might also read aloud to yourself or others. This will help your cheeks, tongue, bone, and existing teeth become more accustomed to this foreign object inside your mouth.
If you prefer to err on the side of caution, your denture dentist in Westminster may recommend using a bit of denture adhesive to help hold your prosthetic in place.