Dental Implants — Westminster, CO
Regain Seamlessly Lifelike Teeth for Life
Are you missing one or more teeth? If you are, you already know that tooth loss can take a heavy toll on your quality of life. You may find it more difficult to speak clearly, eat your favorite foods comfortably, and smile with confidence. While tooth replacement options like dental bridges and dentures are better than ever before, they're still a long way off from natural teeth. At J.B. Dental, we can help you regain seamlessly lifelike teeth for life with a state-of-the-art solution: dental implants in Westminster! These restorations replace every part of your missing tooth or teeth so you can enjoy a comfortable and functional smile once again. Give us a call today to schedule your dental implant consultation.
Why Choose J.B. Dental For Dental Implants?
Compassionate Dentist with Over a Decade of Experience
Permanently Replace Any Number of Missing Teeth
Flexible Payment & Financing Options to Make Dental Implants Affordable
What Are Dental Implants?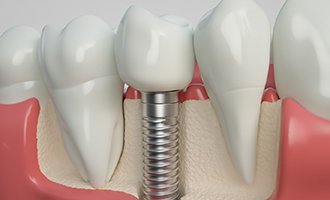 A dental implant is a bioengineered titanium post that is placed into the bone where the missing tooth once was. It has an acid-etched and sandblasted surface, which helps the bone adhere to the implant during the healing process. Approximately four to six months after the initial placement of the implant, it will be fully integrated into the jawbone and as sturdy as a natural tooth root. At this point, the implant is ready for restoration by placing a crown, bridge, or denture permanently onto the implant, thereby creating a fully functional replacement of the missing tooth.
A dental implant is extremely natural-looking, durable, and has a success rate of over 95% for those patients that qualify. The cosmetic and functional superiority of this treatment has made dental implants one of the most sought-after treatments for missing teeth.
The Dental Implant Process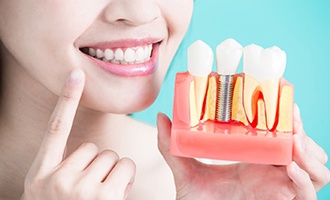 The specific type of dental implant surgery that will be best for you will depend on many factors, including the number and location of missing teeth, whether any tooth extraction is required, the condition of your jawbone, and your overall health. Dr. Bancroft will carefully assess your individual situation and recommend a personalized treatment plan that's right for you and will work with you to make and then fit your replacement teeth.
A consultation with J.B. Dental to determine the best course of treatment for our patients is the first step on your journey with dental implants. If an implant is deemed the best course of treatment for your tooth loss, we will need to plan the surgical components of your treatment. In most cases, we can perform your dental implant surgery right here in our office! Once you've healed from dental implant placement, you'll return to our office to have your final restoration anchored in place. This could be a crown, bridge, or denture depending on how many teeth you're missing.
Benefits of Dental Implants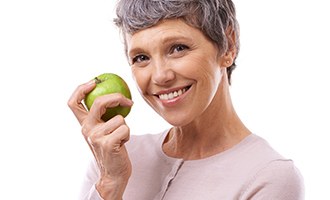 Dental implants can replace missing teeth without affecting adjacent healthy teeth
Prevents shifting teeth, jaw pain, and bite problems associated with tooth loss
Restores full confidence in your smile since dental implants never slip out of place
Preserves gum tissue and jawbone density, which usually deteriorate after tooth loss
Restores normal chewing power, ability to speak clearly, and improves digestion
Who Dental Implants Can Help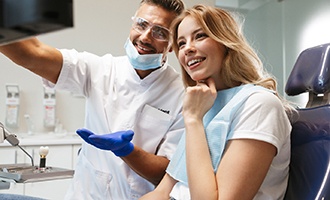 If you are currently missing one tooth, multiple teeth, or all the teeth in your smile, you'll be glad to learn that dental implants are capable of replacing all of them quite effectively. They are also worth considering if you are currently relying on a dental bridge or denture but aren't particularly enjoying it and are looking for an upgrade. During your implant consultation, our office will closely examine many aspects of your oral health, including your bone tissue and gums. If any other treatments are needed before implants can be safely placed, they will need to be completed first.
Missing 1 Tooth
If you need to restore only a single tooth/implant, an implant-retained dental crown is the ideal choice. Dr. Bancroft will design this conservative restoration from high-quality dental porcelain for a seamlessly lifelike appearance and feel. Better yet, it will be able to fit right in alongside natural teeth without requiring them to be heavily altered – this method is much better for your ongoing oral health.
Missing Multiple Teeth
When multiple teeth are missing throughout the mouth, implant-retained dental crowns may still be the right option for replacement. Alternatively, if the teeth used to appear consecutively, Dr. Bancroft could anchor a dental bridge over two positioned implants on either side of the gap, providing more comprehensive coverage all at once that's sturdy, functional, and long-lasting.
Missing All Teeth
Are you tired of a loose denture that doesn't allow you to eat what you want? Ask Dr. Bancroft about a better alternative. An implant denture is a denture held in place using two or more dental implants. These dentures may be removable or fixed. Implant dentures eliminate the looseness of a traditional denture and increase your chewing abilities by 60-90%. Implants work to reduce bone loss by holding the bone in place after a tooth is lost, thereby creating a more stable platform to keep your dentures in place.
In addition to the traditional implant denture model, Dr. Bancroft now offers All-On-4 as a state-of-the-art solution to comprehensive tooth loss. Like the name implies, we'll place as little as four implants at precise, strategic angles in the jawbone to support a full arch of prosthetic teeth. The biggest benefit of this technique is that these new teeth can be restored on the same day as the surgical procedure and then replaced with a permanent prosthetic after the patient has fully healed – you won't have to spend any time without the complete, confident smile you deserve!
Learn More About Implant Dentures
Understanding the Cost of Dental Implants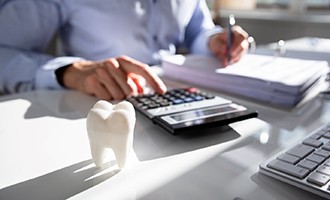 At J.B. Dental, Dr. Bancroft and her team of experts want you to feel confident about your decision to choose dental implants. This is why during your initial consultation, she will go over the entire process from start to finish and explain what factors are considered when crafting your estimate. Understanding the cost of dental implants in Westminster is necessary so that you can plan for your upcoming treatment. While it is true that the upfront cost is higher, the long-term benefits you'll receive will make it a rewarding investment. Contact our office today to learn more about the financial responsibilities that come with dental implants.
Types of Dental Implants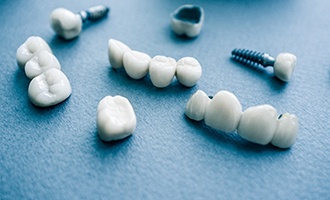 The most prominent factor associated with the cost of treatment is the type of restoration you will need. If you are missing only one tooth, you will require a single dental implant, metal abutment, and custom-made dental crown. Naturally, as you require additional implants, the price will increase. For replacing multiple missing teeth, you have a few options that range from multiple individual implants, to implant-retained prosthetics like a denture or a bridge. In cases where a patient is missing most of their teeth, the ideal solution is all-on-four implant dentures which typically requires 4 individual implants. In every case, the treatment is different and customized to fit the patients needs. The best place to start is always with a thorough consultation with Dr. Bancroft so she can present you with the best solution given your oral health and your financial situation.
The Stages of Dental Implant Treatment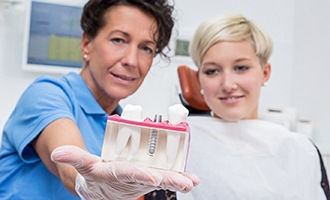 Each stage of the dental implant process incurs its own fee, allowing you to better budget along the way. From the initial consultation to the surgical placement to receiving your abutments and finally, your customized restoration, the entire process takes several months. However, this presents a great advantage because it will allow you to pay for each step in the process as you go instead of looking at one lump sum at the end of treatment.
Some of the services you will pay for along the way include:
Any pre-implant placement dental work (i.e. bone grafting, tooth extraction)
Implant placement surgery
Abutment placement
Creation and placement of your custom restoration
Are Dental Implants Worth the Investment?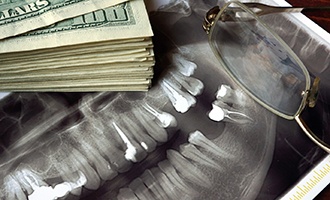 There is no doubt that dental implants are most certainly worth the investment. Unlike traditional tooth replacement solutions (i.e. fixed bridge, traditional partial or full dentures) that require frequent replacements, dental implants are designed to remain in place for decades or longer. Not to mention that they offer improved oral health because of their continuous stimulation of your jawbone, preventing facial collapse or sagging as you age.
Does My Dental Insurance Cover Dental Implants?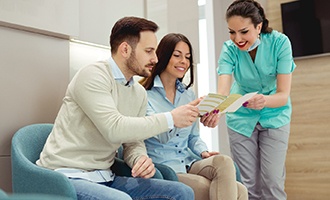 Your dental insurance company may cover the cost of dental implants; however, not all are jumping on the bandwagon just yet. You will need to check with your insurer to determine if they will cover any or all of your treatment. If the surgical placement is not, you may find that your abutments, restoration, or any pre-implant placement dental work are fully or partially covered.
No matter how your insurance company handles your upcoming procedure, your implant dentist in Westminster will go over additional payment options to help you stay within your budget. Whether it is applying for flexible financing through CareCredit, which offers low and no interest payment plans, or enrolling in our dental membership program that provides 20% off all additional treatments for one low yearly fee, we can help minimize your out of pocket expenses while achieving a new and improved smile.