TMJ Treatment – Westminster, CO
Effective Solutions for a Better Quality of Life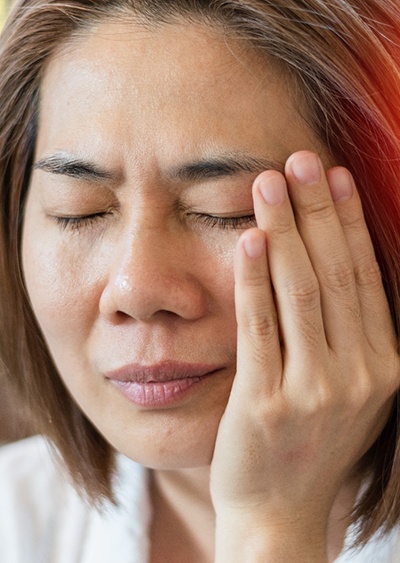 Temporomandibular joint disorder (TMD) affects millions of people throughout the United States. According to the National Institute of Dental and Craniofacial Research, a recent study suggested that between 11 and 12 million adults have TMJ pain, and it is more common in women than men. If morning headaches, chronic jaw pain, and a stiff neck are keeping you from living your best life, it's time to contact our office and let Dr. Bancroft at J.B. Dental recommend TMJ treatment in Westminster. Using safe and effective solutions, she can help relieve the pain and put you on a better track to improved oral function.
What is TMJ Disorder?
TMJ dysfunction occurs when the temporomandibular joints, muscles, and connective tissues surrounding the jaw become inflamed or damaged. Not only does this affect these immediate joints that connect to the base of the skull, but it also causes difficulty chewing, speaking, yawning, laughing, and even sneezing.
Whether caused by inflammation, a misaligned bite, oral trauma, or bruxism, the joints can become overworked and create unnecessary tension that leads to increased discomfort that can be debilitating.
Symptoms of TMJ Disorder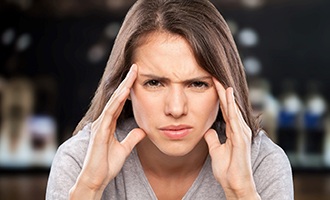 The only way to know for sure if you have TMJ Disorder is to schedule an appointment with your dentist in Westminster. However, some signs can point you to contact our office sooner rather than later for treatment. These include:
Difficulty chewing or eating
Intense pain in the jaw and behind the eyes
Frequent earaches or ringing in the ear
Lockjaw
Popping of the jaw or clicking when opening and closing your mouth
Limited oral function
Change in your bite
Pain in your neck and back
Should you discover that you're experiencing any of these symptoms, don't wait to schedule an appointment. The sooner you receive treatment, the better.
Types of TMJ Treatment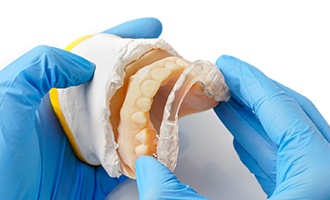 When meeting with Dr. Bancroft to determine whether you have TMJ dysfunction, you can expect to undergo digital imaging for diagnostic examination. This may include digital X-rays that not only emit far less radiation but also produce high-resolution images for more accurate treatment planning. Once Dr. Bancroft compiles her findings, she will go over the various treatment options to help you decide which one is right for you based on your needs.
Because TMJ dysfunction can be caused by several things (i.e., bruxism, oral trauma, stress, joint inflammation), it's important that we identify the underlying cause before deciding on a specific treatment.
Occlusal Splint
Should you be recommended for an occlusal splint, you can expect this unique device to not only protect teeth from the effects of grinding (i.e., worn tooth enamel), but it will also reduce the symptoms associated with TMJ, helping to improve your condition. In return, you'll experience greater relief from the pain.
BOTOX® Injections
With BOTOX injections, we can target the muscles that surround the jaw joints, allowing the injectable solution to temporarily freeze them and ultimately, relax. Although results will only last a few months, it can be an effective option for individuals who desire a more comprehensive approach to TMJ treatment, as your dentist may recommend both BOTOX and an occlusal splint.