Veneers – Westminster, CO
A Beautiful Solution For A Variety of Flaws
The Many Benefits of Porcelain Veneers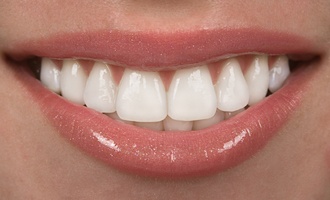 Veneers are thin, strong "shells" that we precisely match to the rest of your smile and adhere to the front surfaces of your teeth to give them a whole new look. We especially love using porcelain to custom-make our veneers because it provides so many benefits, including:
Porcelain is very strong and durable, so you can expect years of enjoyment from your veneers.
It reflects light more like natural teeth do, giving your new smile an incredibly natural and lifelike appearance.
It's non-porous and stain-resistant, so you won't have to worry about coffee, tea, or red wine stains.
Although porcelain is quite strong, it's also thin, so it conserves more of your natural tooth structure.
What Is the Procedure Like?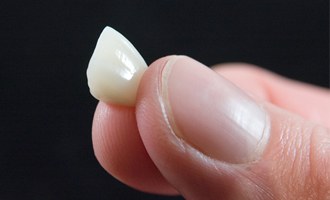 After we've evaluated your oral health, discussed your goals, and determined that porcelain veneers are right for you, we'll schedule the first of two visits. Here's what the process is like:
At the first visit, Dr. Bancroft will reshape your tooth by removing a very thin layer of enamel. This makes room for the veneer so it looks natural instead of bulky.
Next, we'll take impressions of your teeth so that your permanent veneers match them perfectly. Then we'll put temporary veneers in place that look great and protect your teeth until your second visit.
It usually takes 1-2 weeks for your custom veneers to be made, at which point you'll return to have the temporaries removed and the permanent restorations cemented into place.
How Can You Maintain Your Veneers?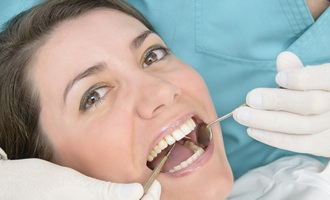 At J.B. Dental, our goal is to make sure your smile looks great now and also stays that way for many years to come. Fortunately, porcelain veneers can last 10-15 years with the right care and maintenance.

The first step is scheduling regular checkups. By having a dentist regularly monitor all of your dental work, including your porcelain veneers, we can make sure any potential problems are caught as early as possible.
Second, maintain great oral hygiene habits by brushing at least twice per day and flossing once. Although your veneers themselves can't get cavities, the natural tooth structure underneath them can, so it's important to keep these teeth strong and healthy.
Understanding the Cost of Veneers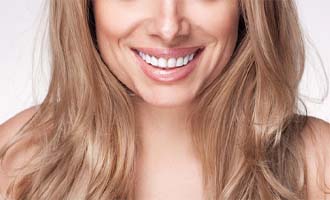 If you're hoping to achieve a Hollywood look, you cannot go wrong in choosing veneers. These customized restorations make it possible to transform your appearance in just 2-3 visits. But if you're wondering about the cost of veneers in Westminster, it's important to know that only after seeing Dr. Bancroft for an initial consultation will we be able to provide a complete estimate. Also, you should consider how your price point aligns with other cosmetic services, many of which can help you achieve beautiful results. While veneers are certainly one of the most popular and worthwhile investments you can make in your smile, you need to make sure they are right for you.
Cost vs. Cosmetic Dentistry: What's Right for Me?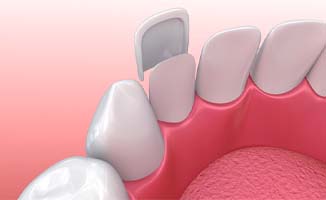 There are varying price points for the cosmetic dental treatments we offer. Some of these include:
Veneers: In only a few appointments with your cosmetic dentist in Westminster can you see a truly transformed smile. Veneers may be more expensive than other treatments but are capable of changing the size, shape, and color of your teeth.
Metal-Free Dental Restorations : Unlike veneers that only cover the front surface of your teeth, metal-free dental restorations can cover the entire tooth; however, they can be quite expensive depending on how many teeth you want to be covered.
Dental Bonding: Considered one of the more affordable options, dental bonding uses tooth-colored composite resin to hide minor flaws. However, it does need to be replaced every few years.
At-Home Teeth Whitening: At-home Opalescence teeth whitening treatment is helpful if you're only looking to eliminate stains and discoloration. Teeth whitening, although popular, is limited in its abilities, as it cannot change the size and shape of your teeth.
Icon Treatment: Relatively inexpensive, this type of treatment is designed solely to address white spots on teeth.
Invisalign: Invisalign is a clear aligner system that changes the alignment of your teeth. Although effective, it is costly and requires months or even years of treatment. Also, it only works to move your teeth into proper alignment, not change the size, shape, or color of your teeth.
How to Make Veneers Affordable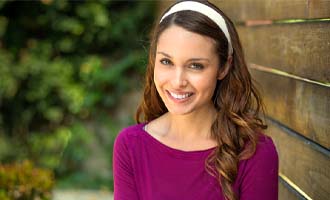 Veneers are considered a cosmetic dental treatment, which means most dental insurance companies will not provide coverage for this type of service. The good news is that J.B. Dental offers alternative ways to pay for your veneers while still making them affordable for you:
B. Dental Membership Program – For one, low annual fee, uninsured individuals can receive preventive dental care as well as 20% off all other dental treatments. This not only allows you to bypass annual maximums, deductibles, and waiting periods that come with normal dental insurance, but it also provides a discounted rate for services designed to improve your aesthetics.
CareCredit Financing – If you want to break up the cost of your veneers in Westminster, you might consider flexible financing through CareCredit. Eligible clients can apply for low and zero interest payment plans that make it possible for you to better budget your cosmetic treatment.
Veneers FAQs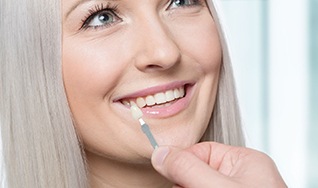 Dr. Joanne Bancroft and her team at J.B. Dental want you to feel good about the way you look. When choosing veneers in Westminster, you can expect your appearance to be transformational. Stains, chips, cracks, fractures, discoloration, and even minor gaps can be a thing of the past. But before you begin the process of changing your aesthetics, we understand you may have several questions about the process. This is why we've compiled some common questions asked by patients who have received veneers. If you do not see your question listed below, please do not hesitate to contact our office and schedule an appointment to meet with Dr. Bancroft.
How Are Veneers Different Than Crowns?
There are many differences between veneers and crowns. Some of the most prominent include:
Veneers are thin shells that are about 1 millimeter in thickness. Crowns are shaped like the entire tooth and are about 2 millimeters in thickness.
Veneers are only attached to the front side of the teeth while crowns cover the whole thing.
Crowns are for protecting worn or cracked teeth, or for restoring the tooth after a root canal. Veneers are usually only used for cosmetic purposes or minor shape corrections when the tooth is mostly intact.
Veneers don't show a gum margin after several years the way crowns do. They also require far less trimming of the enamel to place.
What Happens to Teeth Under Veneers?
To have veneers put into place, a small portion of tooth enamel must be removed from the front surface of each tooth. This allows the bonding agent to attach the veneers to your tooth safely. Although the procedure itself will not make you more vulnerable to tooth decay or cavities, you will be responsible for taking care of your teeth by brushing, flossing, and rinsing regularly. Because the teeth underneath your veneers are natural, they are susceptible to common oral health problems if dental hygiene is neglected. Making sure you stay on top of your morning and nighttime routine, continuing to see your cosmetic dentist in Westminster for regular checkups, and limiting your sugar consumption is imperative to ensure the longevity of your smile and veneers.
Do Veneers Feel Like Real Teeth?
Advancements in cosmetic dentistry and the creation of veneers have changed dramatically throughout the decades. What was once viewed and mocked as "chiclet teeth," veneers are now made to look and feel completely natural when put into place. Many patients report that they no longer notice their veneer when talking or eating. Because these customized restorations are designed based on accurate impressions taken of your smile, you can expect them to fit comfortably and snug against your teeth. Not to mention, porcelain, which is most commonly used, is known for its smooth texture, allowing you to enjoy the feel of your new smile without any possible irritation to your soft oral tissues.
Is There Anyone Who Shouldn't Get Veneers?
Most individuals are eligible to receive veneers; however, if you have a cavity or tooth decay, it is best to avoid having a veneer placed on that particular tooth, as the problem could begin to worsen and become difficult to treat. It's also important that you not show any signs of gum disease, as bleeding and swelling can cause impressions to be less accurate, resulting in your veneers not fitting correctly. Gum disease is also linked to gum recession, which can cause your veneers to become exposed over time. Lastly, if you suffer from bruxism (teeth grinding), you'll want to discuss how you can minimize the impact or stop the practice before moving forward with veneers. Otherwise, your veneers can become damaged.
How Can I Reduce the Cost of Veneers?
It should not come as a surprise that dental insurance will not cover the cost of veneers. Because they are considered a cosmetic treatment and not deemed "medically necessary," you will be expected to find an alternative way to pay for your care. Fortunately, there are other ways you can pay for treatment and make it more affordable. A few things to consider include:
Think about how many teeth you want to have covered with veneers. By choosing not to cover all your teeth, you can cut down the cost of your treatment.
Find out if you are eligible to apply for a low or no interest payment plan through a third-party financier like CareCredit.
Ask our team about the J.B. Dental Membership Program, which offers basic dental care and valuable discounts on additional treatments for one low yearly fee.