Implant Dentures – Westminster, CO
Longer-Lasting, Life-Changing Results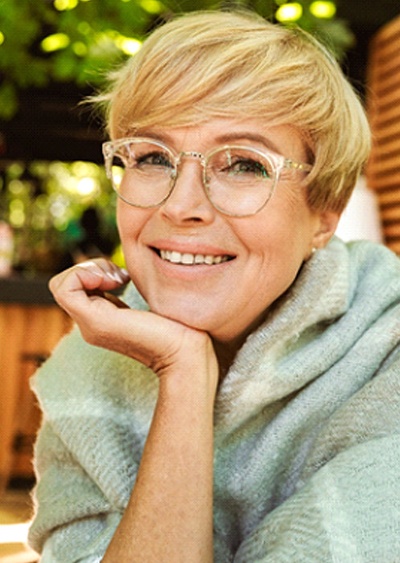 Losing an entire arch of teeth can not only cause you to feel embarrassed, but you will likely also experience difficulty eating and speaking. While you can opt for traditional dentures to replace your missing teeth, they often lack durability and functionality. However, at J.B. Dental, Dr. Bancroft is pleased to offer an alternative solution in the form of implant dentures. Offering greater functionality, comfort, confidence, and longevity, you can expect to enjoy longer-lasting results that will truly change your life. If you would like to learn more about implant dentures and find out if you are a qualified candidate, contact us to schedule an appointment today.
Why Choose J.B. Dental for Implant Dentures?
Advanced Technology Used to Ensure Greater Precision and Treatment Planning
Convenient Office Hours Available
Partner with Trusted Specialists for Successful Implant Placement as well as State-of-the-Art Labs to Generate the Perfect Implant Denture and Smile
What Are Implant Dentures?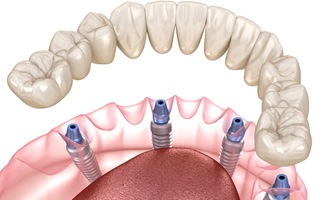 Implant dentures are a unique tooth replacement solution that makes it possible to replace an entire arch of missing teeth. Dental implants are an extremely versatile treatment option that can be easily paired with dental crowns, bridges, and dentures. Unlike traditional dentures that sit on top of the gums, implant dentures are surgically placed into the jawbone and fuse with the bone and surrounding tissues for greater permanence, functionality, and longevity.
It is believed there are more than 3 million people who have received dental implants and more than 500,000 are placed each year. Depending on your unique needs, your dentist may suggest one of two options for implant dentures. These can include:
Fixed/Permanent Implant Dentures
Often referred to as a hybrid prosthesis or All-On-4, these dentures can only be removed by Dr. Bancroft and typically require between 4-6 dental implants to be surgically placed in the jaw. Using metal abutments and a titanium metal bar to secure all 4 implants together over these abutments, a customized full denture is secured into place.
Removable Implant Dentures
Also known as an overdenture or implant-supported denture, removable implant dentures can be taken out before going to bed and prior to cleaning. Using fewer implants (between 2 and 5), these dentures snap into place.
The Implant Denture Process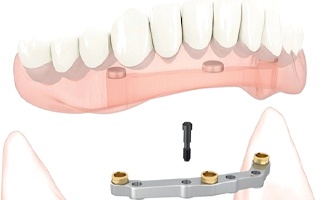 Unlike traditional dentures, receiving implant dentures requires time and patience. It is a multi-step process that extends over several months (or even a year). Although this might sound daunting, the results are well worth the time and financial investment.
Dr. Bancroft works closely with outside specialists who are equipped to perform the surgical procedure for implant dentures. The typical implant denture process involves the following steps:
Scheduling a consultation with Dr. Bancroft to determine your eligibility. You will learn if you need any preliminary treatments (i.e., tooth extraction, bone grafting) as well as which type of implant denture is right for you.
Undergoing dental implant placement. Before making the incisions in your gums, you will receive local anesthesia to numb the appropriate areas of your mouth. There will be small incisions made in the gums to expose the jawbone before each implant is strategically placed at certain angles for maximum support. A temporary denture is then placed onto the abutments initially to allow for light chewing while your implants heal and integrate. The gum tissue is then closed, and you are sent home to recover.
Recovering at home for 3-6 months and allowing osseointegration to occur, which is the process of the implants fusing with the jawbone and surrounding tissues.
Returning to J.B. Dental to have your metal abutments put into place, as these will hold your denture, effectively securing it to your implants.
Having your temporary denture replaced with a titanium bar that will secure all your implants together and receiving a customized denture that is created by lab technicians based on the specifications provided by Dr. Bancroft.
Am I a Candidate for Implant Dentures?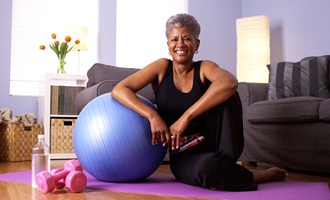 Whether you are a current denture-wearer or are in the process of researching available tooth replacement methods, most adults who are in good oral and overall health are considered good candidates for implant dentures. But you will need:
To be committed to practicing good oral hygiene on a daily basis and break any bad habits that could damage your implants or cause them to fail (i.e., poor oral hygiene, gum disease, smoking)
To be healthy enough to undergo minor oral surgery
To have a strong jawbone to support your customized denture
To prepare to have your oral cavity and facial structure thoroughly examined by your dentist to determine if you are a qualified candidate
Even if you do not believe you are a candidate for treatment, it is best to schedule a consultation with Dr. Bancroft. Only she can determine if you can move forward with implant dentures. If you do not have enough bone, you may be eligible to undergo a bone grafting procedure that will put you on the right track for your new smile.
Benefits of Combining Dentures & Dental Implants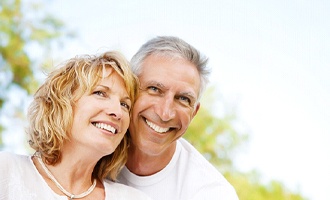 While it is true you will spend more time and money receiving implant dentures, the benefits are well worth the investment. You can expect:
Greater stability when eating and speaking because your implants will not slip or fall out
To enjoy all your favorite foods and beverages, even those that are hard and crunchy and can be difficult for more traditional tooth replacement options
To enjoy a smile that is easy to clean and maintain
No soft tissue irritation or jaw soreness (unlike traditional dentures)
Greater oral health because your implants will continue to stimulate your jawbone and prevent it from deteriorating over time
Increased comfort, as your implants will feel and act just like regular teeth
The ability to feel more confident in your appearance