New Patients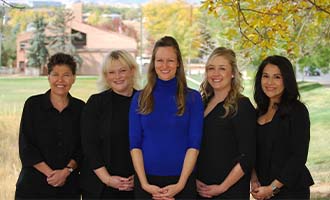 Are you and your family brand-new to J.B. Dental? We're looking forward to getting to know you! Dr. Bancroft and the rest of our team are hoping to exceed expectations from the very first appointment, and that goal starts right here on this page. Below, you'll find plenty of good information about what you can expect during this important initial visit so that you're well-prepared. If you have any questions or concerns beforehand, please don't hesitate to let us know.
Your First Visit
At the first visit, patients will be warmly greeted at the door and then promptly invited back to spend some quality time with our talented hygienist. She will capture X-rays and intraoral photos while also completing all of the necessary screenings. Then, it will be time to recommend a cleaning, based on the findings. If gum disease is present, we will take the time to help you understand the concerns surrounding this gradual infection and why a deep cleaning is strongly encouraged.
Once your cleaning is complete, Dr. Bancroft will arrive to introduce herself, complete a comprehensive examination, and recommend treatment as needed based on your unique concerns and preferences. You will be provided with a detailed treatment plan before any actual work begins, and our team members will always be happy to answer questions so that you feel completely confident about your impending smile journey.
Dental Insurance
Navigating the in's and out's of dental insurance shouldn't have to be a stressful, overcomplicated process – instead, let our knowledgeable Westminster team lend a helping hand. J.B. Dental is in-network with most major PPO plans, and we can also file claims for providers in order to help patients receive their deserved reimbursements smoothly. Please plan bring in your dental insurance card and/or relevant paperwork prior to your first appointment.
CareCredit Accepted
If you and your loved ones aren't currently covered by a traditional dental insurance plan, CareCredit is an affordable alternative that can make even the most extensive treatment plans much more manageable. This type of payment plan comes in a variety of different lengths, all of which have very little to NO interest attached, and patients may use it for purely cosmetic services and other options that don't receive insurance benefits in the first place. As a first step, those interested can complete an application at the link below:
J.B. Dental Membership Program
Wouldn't it be nice to have access to insurance benefits without having to worry about deductibles, yearly maximums, and other headaches? Our in-house membership program was specifically designed for individuals and whole families without current insurance coverage as a simple way to make regular treatment more affordable. To learn more, follow the link below!
Learn More About the J.B. Dental Membership Program