Cost of Dental Implants – Westminster, CO
A Rewarding Investment in Your Smile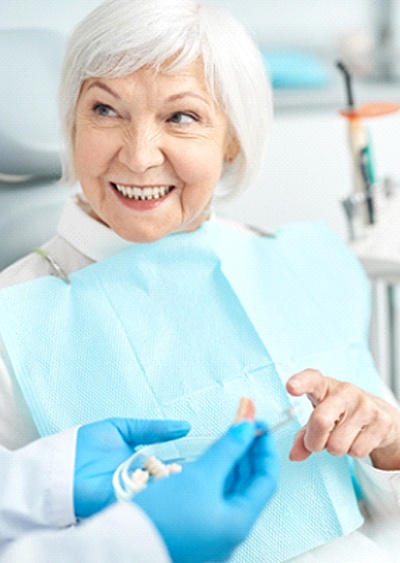 At J.B. Dental, Dr. Bancroft and her team of experts want you to feel confident about your decision to choose dental implants. This is why during your initial consultation, she will go over the entire process from start to finish and explain what factors are considered when crafting your estimate. Understanding the cost of dental implants in Westminster is necessary so that you can plan for your upcoming treatment. While it is true that the upfront cost is higher, the long-term benefits you'll receive will make it a rewarding investment. Contact our office today to learn more about the financial responsibilities that come with dental implants.
Types of Dental Implants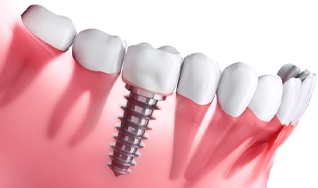 The most prominent factor associated with the cost of treatment is the type of restoration you will need. If you are missing only one tooth, you will require a single dental implant, metal abutment, and custom-made dental crown. Naturally, as you require additional implants, the price will increase. For replacing multiple missing teeth, you have a few options that range from multiple individual implants, to implant-retained prosthetics like a denture or a bridge. In cases where a patient is missing most of their teeth, the ideal solution is all-on-four implant dentures which typically requires 4 individual implants. In every case, the treatment is different and customized to fit the patients needs. The best place to start is always with a thorough consultation with Dr. Bancroft so she can present you with the best solution given your oral health and your financial situation.
What Are the Stages of Dental Implant Treatment?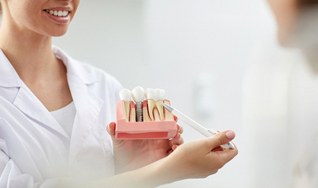 Each stage of the dental implant process incurs its own fee, allowing you to better budget along the way. From the initial consultation to the surgical placement to receiving your abutments and finally, your customized restoration, the entire process takes several months. However, this presents a great advantage because it will allow you to pay for each step in the process as you go instead of looking at one lump sum at the end of treatment.
Some of the services you will pay for along the way include:
Any pre-implant placement dental work (i.e. bone grafting, tooth extraction)
Implant placement surgery
Abutment placement
Creation and placement of your custom restoration
Are Dental Implants Worth the Investment?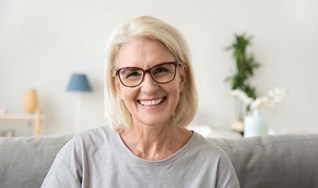 There is no doubt that dental implants are most certainly worth the investment. Unlike traditional tooth replacement solutions (i.e. fixed bridge, traditional partial or full dentures) that require frequent replacements, dental implants are designed to remain in place for decades or longer. Not to mention that they offer improved oral health because of their continuous stimulation of your jawbone, preventing facial collapse or sagging as you age.
Does My Dental Insurance Cover Dental Implants?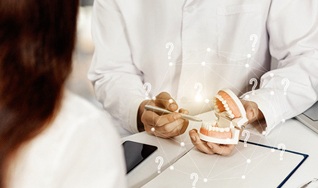 Your dental insurance company may cover the cost of dental implants; however, not all are jumping on the bandwagon just yet. You will need to check with your insurer to determine if they will cover any or all of your treatment. If the surgical placement is not, you may find that your abutments, restoration, or any pre-implant placement dental work are fully or partially covered.
No matter how your insurance company handles your upcoming procedure, your implant dentist in Westminster will go over additional payment options to help you stay within your budget. Whether it is applying for flexible financing through CareCredit, which offers low and no interest payment plans, or it is enrolling in our dental membership program that provides 20% off all additional treatments for one low yearly fee, we can help minimize your out of pocket expenses while achieving a new and improved smile.