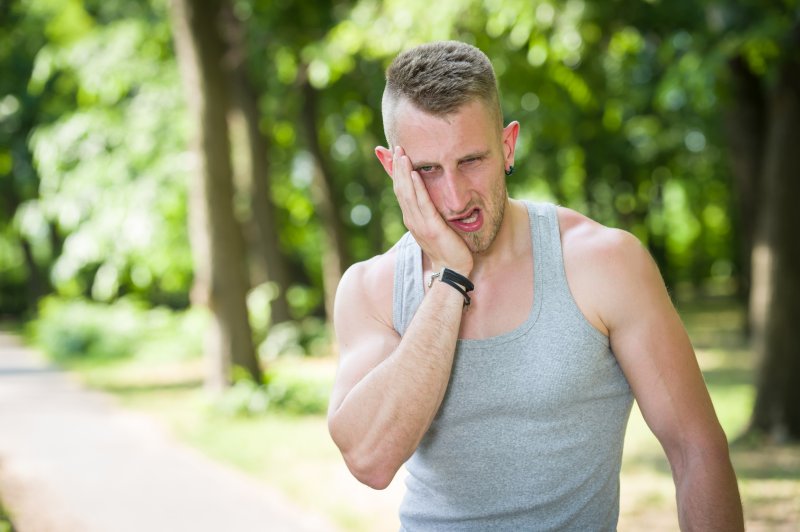 Are you suffering from tooth pain? Do you notice that it worsens when you exercise? There are many reasons this can happen, and it is important that you seek the help of a professional the moment you notice a problem. Forgoing treatment will only lead to worsening symptoms and the potential for more complex restorative care. To learn why this is happening to you and what your dentist can do about it, read on.
Tooth Pain & Exercise: Why It Occurs
Whether you're out on a run, lifting weights, or going for a bike ride, the last thing you want to deal with is a toothache. Unfortunately, what we want isn't always what we get, so when tooth pain arises, it's important to know why it happens and what you can do about it.
Some of the reasons you may begin to experience extreme discomfort while trying to work out include:
Sensitivity to Cold Air: If you enjoy exercising no matter the weather, it could be that you experience tooth sensitivity. When breathing in while outside, the cold air comes into contact with your tooth and sends pain signals running wild. One way to remedy this is by trying to breathe through your nose.
Sinus Congestion: When suffering from sinus congestion, you may be fortunate that you feel well enough to exercise, but you suddenly experience more severe tooth pain. Many times, while walking or running, you will begin to feel pain toward the back of your mouth. Because some of your teeth sit at the base of your sinus cavity, it can create serious discomfort.
Teeth Grinding: Any time you apply pressure to your teeth (i.e., biting down when lifting weights or clenching while running on an incline), there is a chance for tooth pain. Bruxism is a common condition many children and adults face, so if you're prone to teeth grinding or clenching, it's likely to cause pain.
Abscessed Tooth: If an abscessed tooth exists, pain will increase when exercise because of the increase of blood flow into the particular area. As a result, you will need a root canal.
How Your Dentist Can Help
The moment you notice that you feel pain while exercising, it's important that you call and schedule an emergency dentist's appointment. By getting in to see your dentist as soon as possible, they will be able to examine your mouth and determine what might be the underlying cause of your tooth pain.
Any of the above-mentioned reasons can be remedied using safe and effective dental solutions. Whether it is wearing a customized mouthguard to prevent bruxism, periodontal therapy to treat gum disease, specialized toothpaste to reduce sensitivity, or general over-the-counter medication to combat sinus congestion, you can get the help you need. It is always better to meet with your dentist instead of hoping the pain goes away on its own.
About the Author
Dr. Joanne Bancroft has been practicing dentistry since 2003. Earning her dental degree from the State University of Buffalo School of Dental Medicine in 2002, she completed a General Practice Residency at the University of Colorado School of Dental Medicine. She earned the recognition of being one of Westminster's Top 3 Local Dentists in 2019 as well as one of Colorado's Top Dentists in 2020. Whether she is performing a general checkup or preparing an individual for a root canal, she believes in patient-focused treatment that ensures safety and comfort. Do you have a sudden dental emergency? If so, contact us at (720) 458-6561.