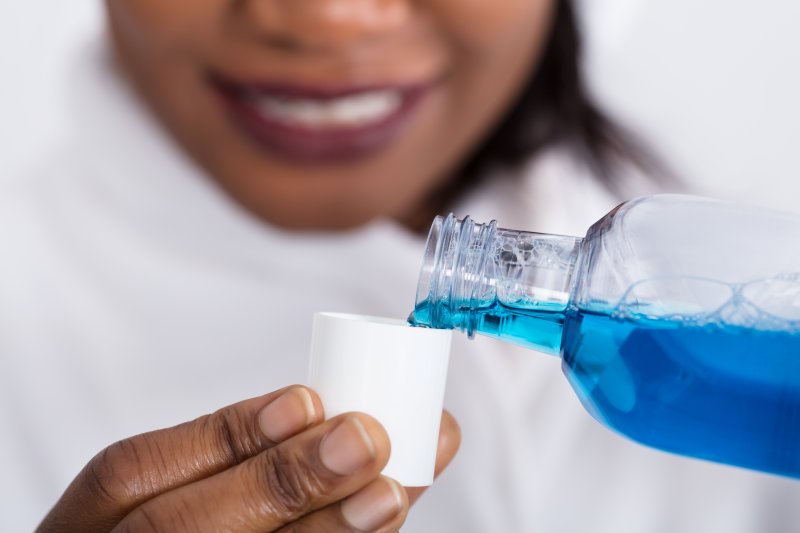 Do you perform a mouth rinse twice a day? Unfortunately, many people often forget this step in the oral hygiene routine and only stick to brushing and flossing. While those tasks are critical for removing harmful bacteria from your teeth and gum line, rinsing allows everything left behind to be flushed out of the mouth, leaving you with clean, minty fresh breath. So why is it usually a forgotten step, and why is your dentist requesting that you do it before your next appointment? Read on to learn how rinsing your mouth may help to reduce the risk of harmful pathogens, keeping you and your dentist safe.
Mouthwash and COVID-19: What's the Connection?
The connection between mouthwash and COVID-19 isn't as clear as you might hope. While medical professionals and healthcare workers would love to state that rinsing with a product that contains at least 20% alcohol will eliminate the COVID-19 virus, this is simply not true at all. If it were, stock in various brands would skyrocket as everyone in the country would be raiding the shelves at their local drug stores.
The Centers for Disease Control and Prevention (CDC) states, "There is no published evidence regarding the clinical effectiveness of preprocedural mouth rinses (PPMRs) to reduce COVID-19 (SARS-CoV-2) viral loads or to prevent transmission. Although COVID-19 was not studied, PPMRs with an antimicrobial product (chlorhexidine gluconate, essential oils, povidone-iodine or cetylpyridinium chloride) may reduce the level of oral microorganisms in aerosols and spatter generated during dental procedures."
However, just because mouthwash cannot kill COVID-19 doesn't mean it can't better protect you and others from contracting harmful pathogens that can lead to illness.
How Mouthwash Can Help
Your dentist wants you to be as healthy as possible. This not only includes your teeth and gums but your body as well. When your immune system is down or weakened because of an illness (i.e. cold, flu, COVID-19), it makes it much harder for your body to fight off infection. Also, if you are currently suffering from a common dental problem such as gum disease, you will be more susceptible to contracting potentially dangerous and harmful bacteria and viruses.
What can help combat this problem? The answer: Mouthwash.
By incorporating a rinse into your morning and nighttime routine, you can kill 99% of the germs and bacteria that can cause bad breath, gum disease, and plaque. Simply pour 20mL into a cup and swish it around for 20-30 seconds. That's all it takes.
When you avoid tooth decay, gingivitis, and other damaging dental issues, you are able to maintain a stronger immune system and stave off the potential for contracting COVID-19.
Why Rinse Before Your Appointment?
As dentists across the country implement additional health and safety protocols to protect against the spread of COVID-19, you may be asked to rinse with Listerine or hydrogen peroxide during this time. Although not proven to kill the virus, it is one more way your dentist is ensuring all steps are being taken to reduce the risk.
When less bad bacteria are emitted into the air through aerosols, this lessens the likeliness that your dentist or dental team will become infected by a harmful pathogen.
Under normal circumstances, your dentist may discourage the use of alcohol-based mouthwashes because of its ability to kill both good and bad bacteria. However, because of these uncertain times, rinsing with a dentist-approved or recommended product may be helpful to everyone inside the dentist's office.
About the Author
Dr. Joanne Bancroft earned her dental degree from the State University of Buffalo School of Dental Medicine in 2002. At J.B. Dental, she and her team take the COVID-19 crisis seriously, which is why she is requesting all patients to perform a thorough mouth rinse before their next appointment. As one of the many safety protocols she is implementing within their office, she is making sure everyone remains healthy and safe during their visit. If you would like to know more about the other measures being taken amid the COVID-19 pandemic, contact us at (720) 458-6561.