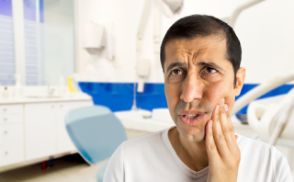 Before the COVID-19 pandemic, dealing with sudden tooth sensitivity was pretty straightforward: You just called your dentist to schedule a visit and that was that. Now, although dental offices are open for emergency care, everyone is encouraged to only schedule those visits if truly necessary. With that said, you may not know when you should manage your dental pain at home, and when you should see an emergency dentist for treatment. Below, you'll learn about what may be causing your sensitivity and find out how to handle it when you're self-isolating at home.
What's Causing Your Tooth Sensitivity?
Sensitivity can range from mild to severe and is commonly caused by one of the following factors:
Cavities
Gum recession, which exposes the sensitive roots of the teeth
Fractured teeth
Old or damaged dental work (e.g. such as a chipped filling)
Gum disease
When Do You Need To See an Emergency Dentist While Self-Isolating?
If you're experiencing any kind of dental pain during quarantine, the first thing you should do is call an emergency dentist. After asking about your symptoms, they'll determine whether you need immediate care or not and, if necessary, schedule an appointment. If your situation is less urgent, they'll give you first-aid advice over the phone and discuss the best time for you to come in.
Here are some examples of situations that require attention as soon as possible:
When you have a fever, swelling, or a pimple-like bump on your gums, all of which can be signs of an infection or abscess.
When your pain is so severe that you can't comfortably eat or sleep.
When you have persistent, lingering pain that lasts more than 5-10 seconds after eating something hot or cold.
When your sensitivity is ongoing or has gotten worse with time (as opposed to mild sensitivity that comes and goes.)
How Can You Manage Tooth Sensitivity At Home?
If a dentist determines that your treatment can wait, they'll recommend at-home remedies to help you stay comfortable until you can be seen. This could include using a sensitivity toothpaste, taking over-the-counter pain medication as needed, or swishing with lukewarm saltwater.
Dealing with sensitive teeth can be stressful, and even more so when you're self-isolating during the COVID-19 crisis. By calling an emergency dentist right away, you'll get the personalized help you need to proceed as cautiously as possible.
About the Author
During the COVID-19 pandemic, Dr. Joanne Bancroft is open for emergency care and also available to provide advice over the phone. And with more than 15 years of experience as a general and emergency dentist, she's treated every type of dental emergency and is able to relieve pain fast. If you're having tooth sensitivity or have any questions, you can reach Dr. Bancroft via her website.