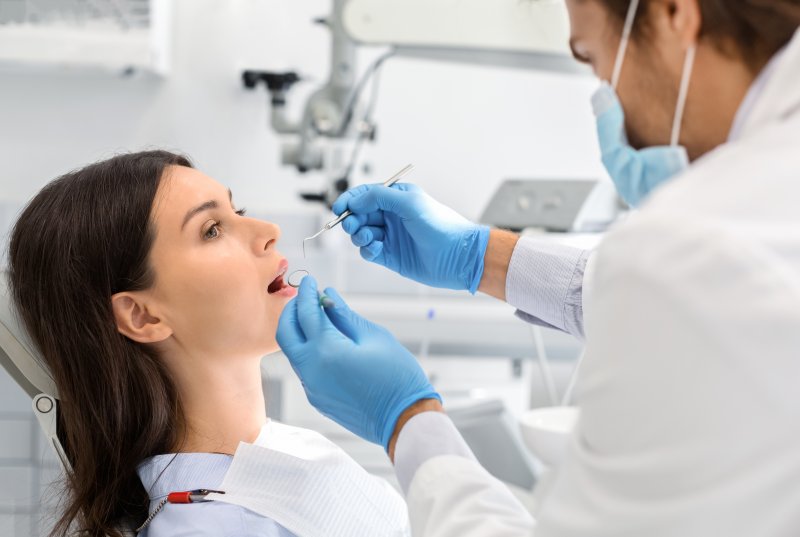 The American Dental Association recommends that all individuals see a licensed dentist every six months for a professional checkup and cleaning. If you have dental insurance, you will most likely find that your preventive care is covered at 80-100% depending on your plan. The reason for this is that your dentist can serve as your ally in the fight against tooth decay, gum disease, oral cancer, and a host of other dental issues. But in order to catch these problems before they progress, you must first commit to keeping your appointments. If going to the dentist isn't at the top of your priority list, let a local dentist explain why it should be and how your dental professional can help you avoid potential problems in the future.
What Does the First Visit Look Like?
If it has been a while since your last visit to the dentist's office, first remember that it is a judgment-free zone. You may feel embarrassed about the look of your teeth and gums, but it is the job of your dentist and the dental team to treat problems and help you maintain a healthier smile.
During your first visit, you will be welcomed by members of the staff and be required to fill out some necessary paperwork on an iPad. Once you've completed the information, you will be escorted back to a treatment room where a dental hygienist will take digital x-rays of your oral cavity. These are much safer than traditional methods and produce a higher-quality image for your dentist to look at.
Next, a dental hygienist will remove any plaque and tartar that has built up around your gum line and teeth. If it is found to have spread beneath your gums, you may need to undergo periodontal therapy, which includes scaling and root planing. Also known as "deep cleaning," this process removes plaque from beneath the gum line before smoothing out the tooth's root to encourage it to reattach.
After quick flossing and polish, your dentist will come in to perform a thorough examination of your mouth, throat, soft oral tissues, teeth, and jaw. They will check for signs of decay, gum disease, oral cancer, and potential bite issues. If necessary, they will offer a personalized treatment plan designed to address any problems that were found during your exam.
Importance of Regular Checkups and Cleanings
When you go too long without a proper dental checkup and cleaning, you are putting yourself at risk for cavities, periodontal disease, tooth decay, and more. It takes very little time for problems to develop within the mouth and because it is closely interconnected to the rest of your body, you may soon see issues with your heart, brain, and even your lungs.
By committing to keep your regular six-month appointments, you are not only ensuring your oral health remains in check but that your wellbeing is in optimal condition. Even when things get busy, take the time to see your dentist. It's only twice a year, and it can make a drastic difference in the lifespan of your smile.
About the Author
Dr. Joanne Bancroft has been practicing dentistry since 2003. Earning her dental degree from the State University of Buffalo School of Dental Medicine in 2002, she attended a General Practice Residency at the University of Colorado School of Dental Medicine. By continuing to take continuing education courses, she remains up to date on all the latest advancements and changes in dentistry. At J.B. Dental, she and her team take preventive care seriously and want all patients to keep their six-month appointments. Not only does this work to prevent problems from developing, but it also allows them to offer helpful tips and advice to maintain a happy and healthy smile at home. To learn more, contact us at (720) 458-6561.