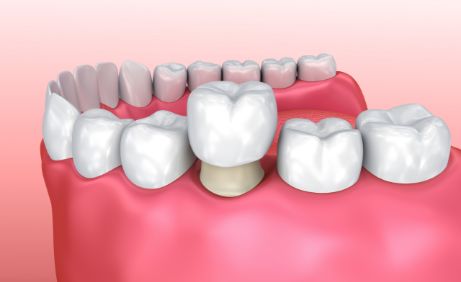 Dental crowns fall under the category of restorative dentistry because they restore damaged teeth and replace lost tooth structure. A dentist typically completes the procedure in 2 separate visits spaced a couple of weeks apart, during which time you'll have a temporary dental crown. But one common question is, "What is a temporary crown and why do I need one?" Keep reading for the answer to that question and find out what you can expect from the procedure. You'll also get tips for caring for your temporary to help the overall process go smoothly!
How Does a Dental Crown Procedure Work?
The first appointment usually takes around 90 minutes and involves the following steps:
First, your tooth will be fully numbed. Then a dentist will prepare the tooth by removing any damaged tooth structure and reducing it in size. This creates room for the crown and ensures that it won't look or feel bulky.
Then impressions are taken and sent to a dental lab where your permanent crown will be made. Your dentist will also give them detailed instructions for matching your new crown in size, shape and color to the rest of your teeth.
Then a temporary crown is put on your tooth so it looks and functions normally until your second appointment.
The second visit usually takes 30 to 60 minutes. Here's what you can expect:
The temporary will be removed and the permanent crown will be cemented into place.
To make sure your crown looks and feels great, your dentist will make any minor adjustments as necessary.
Why Is a Temporary Dental Crown Necessary?
At your first visit, your tooth is significantly reduced in size, so it's missing most of its protective outer layer of enamel. A temporary dental crown protects your tooth while the permanent restoration is being made. This prevents any sensitivity, allows you to eat and drink comfortably, and restores the appearance of a normal tooth.
The temporary will look and feel very similar to a permanent crown, but it's made of a less durable, acrylic-based material. It's also adhered with temporary cement that's only designed to last a few weeks.
It's important to keep the area around the temporary clean, but you'll want to do so gently and carefully. When brushing, aim your bristles towards the gumline and brush with light pressure. When flossing, make sure to pull the floss out horizontally to prevent dislodging the temporary (after you initially get the floss between the teeth). It's also helpful to chew on the opposite side, particularly if you're eating anything crunchy, chewy, or sticky. If you have any concerns or problems, call your dentist right away.
Getting a temporary is a necessary part of the dental crown procedure. It allows you to get a permanent restoration that beautifully restores your tooth's strength, function and appearance for many years to come.
About the Author
Dr. Joanne Bancroft completed her residency at the University of Colorado School of Dental Medicine and has been practicing for nearly 20 years. She often recommends dental crowns as a long-term solution for badly damaged teeth and always explains each step of the procedure beforehand. If you'd like to know more about dental crowns or have any questions, she can be reached via her website.